Based in Malmesbury, Wiltshire, Phonic Books create award winning decodable books for beginner and catch-up readers, widely used by schools, tutors and parents in the UK and 40 countries around the world.
Providing an online store would not only help their customers easily browse and purchase products worldwide, it would also encourage the business to continue grow.
The website would also provide both teachers and parents with a variety of useful advice and resources to be used alongside their books.
We created an online catalogue and store of the full Phonic Books product range, including books, games and workbooks.
Products were carefully categorised into groups, allowing customers to browse items via reading level and age. Each series was then grouped together with their associated workbooks and supporting materials, allowing the correct phonic progression to be followed.
Two websites were created; one for UK and European customers, and the other for the US, with each site allowing Phonic Books to easily manage stock, sales and promotions.
A blog and MailChimp newsletter signup form were also added to the site, allowing for announcements, customer engagement and competitions.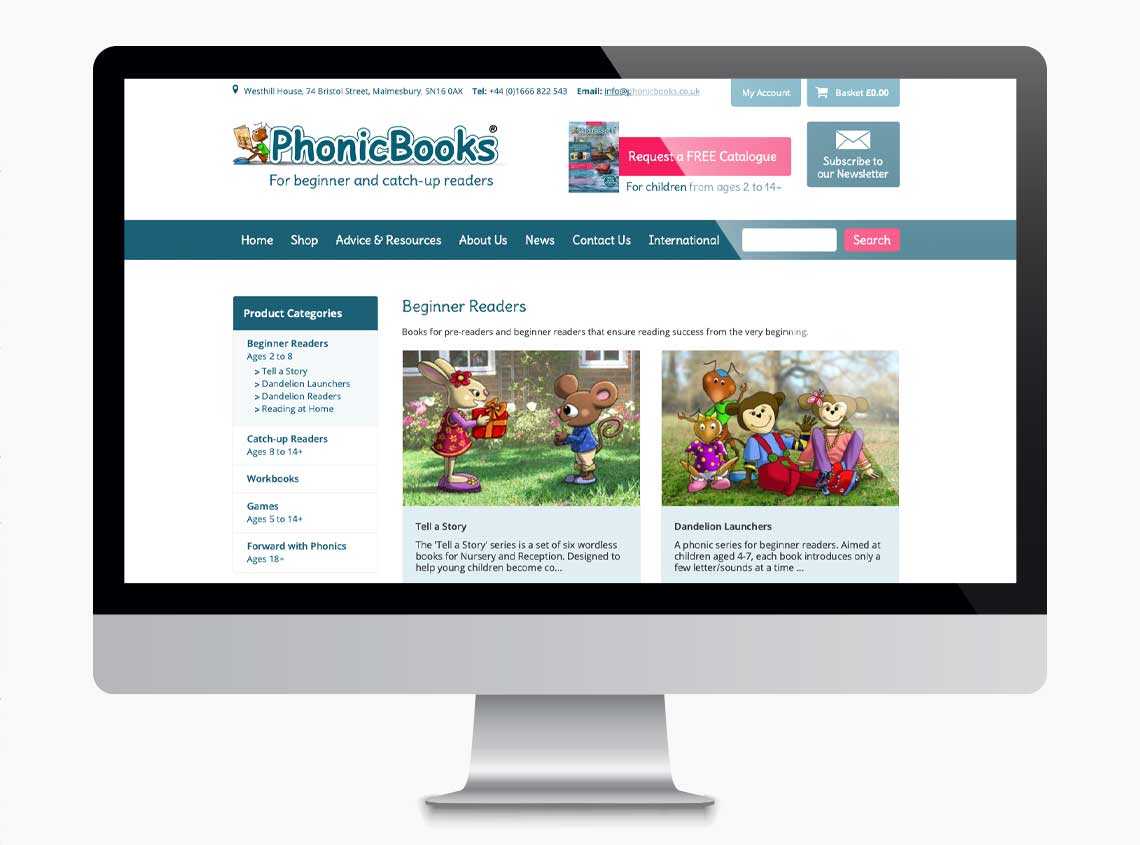 Our website had over time become outdated, cluttered and difficult to navigate. We were therefore in need of a complete overhaul, with the main aim of creating a clean, appealing look and an effortless user journey. Some of our processes had also become clunky and inefficient so we were looking of ways to remedy this.

Conrad and Hannah took time to understand not only our vision but also the mechanics of our business and how we operate. They were a pleasure to work with, very flexible, professional at all times and always made themselves available whenever we had any queries or concerns. They were also able to offer advice and put forward constructive suggestions or make changes as and when necessary.

Our new website is exactly what we were looking for. It's visually appealing, clean, uncluttered and easy to use. We've received many compliments and positive feedback from customers and suppliers alike. The functionality of the site is also spot on with the result that we are able to deal with orders in a more efficient way.

We have found Broadbean's after sales support to be excellent. Since the launch of the website two months ago there have only been a couple of minor teething issues which have been solved very promptly. Hannah and Conrad are always quick to get back to us and proactive in finding solutions to any problems that arise.

We have no hesitation in recommending Broadbean to any business.
, Phonic Books Ltd
, Malmesbury
Website Design & Development
eCommerce
Information Architecture Redesign, Blog Migration, Bespoke Delivery Rules, Linnworks Integration for International Delivery Automation